When training for a half marathon you have good training days and you have tough training days.  Last week I pushed through stomach cramps and incredibly sore legs to stumble through 12 miles of hell.  How much a week can change…
Today I thoroughly enjoyed my first half marathon distance training run.  The 13.1 miles (21km's) along the Wenatchee River in the area of Plain, just out of Leavenworth was anything but plain.  The river looks great, it's full, flowing fast and deep from the snow melt in the surrounding mountains.  The forrest and fields are full with flowers and to top of the scene hundreds of birds were at play along my route.  Fortunately, unlike last week, I was able to enjoy it all.  I actually went out along the river quite slow but as I got through the run I seemed to get stronger and stronger which was unexpected but very welcome.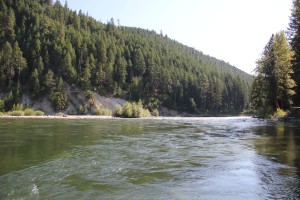 For those interested I was helped along by a glass of Accelerade sports drink before I set out, then supported by a Vega Sport Natural Plant-Based Endurance Gel which I downed at mile 7 (this is a new product and I think it's great stuff).  Once done I had another glass of Accelerate and a glass of low-fat chocolate milk followed by a stretch and a cold bath.
My time of 1:55:30 will definitely not set any records but it is great to get the distance under my belt a few weeks before I run in the Seattle Rock-n-Roll Half Marathon.  I know  there are a lot of folks training for runs this summer so I hope if you are one of them, that you are enjoying your training as much as I did today.