The Good Reasons Why I Stepped Down as President of Team Up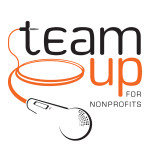 Over the past two and a half years almost every day I've gone to bed and woken up  thinking about Team Up for Nonprofits, the 501(c) organization I founded.  As you might guess it takes a lot of time and energy to launch and grow a nonprofit organization, energy a founder gladly gives for his or her (metaphorical) baby.  But every founder also knows that at some point the organization they created will grow beyond their capacity to manage all of its aspects.
For Team Up for Nonprofits that time is now and I believe the ingredients for a successful transition are all present; a great Board of Directors that includes a wonderful leadership team, a successful platform of achievement to continue to grow from, a loyal network of supporters of the cause, and strong external relationships with people important to the growth of the organization.  Given those key factors, last night I resigned as President of Team Up to focus on my duties as Founder of the organization.   This decision will strengthen Team Up, allowing me a sustained involvement with the organization and the ability to better manage my time and energy between it and my real priority in life, my family.  As Founder I'll still sit on the Board of Director's, I'll be more relationship-focussed and represent the organization at events and speaking engagements.  I will no longer be responsible for the daily goings on of the BoD's or the Gigs4Good program.
The reality is Team Up has grown beyond the point where all roads can successfully run through one person.  By dividing the roles I've been juggling and by adding an additional person to the leadership team the organization will be strengthened.  Make no mistake that it's hard for every founder to give up "control" and it's been no different for me, but I also want what's best for Team Up and of course my family.   It's actually become a pretty easy decision the more I've analyzed it.   For those on "the outside" it's important for me to point out again (as I've done at events when speaking) that Team Up was never a one man band, we have an extremely impressive group of very talented and motivated young professionals who I'm looking forward to working alongside as we move forward.
So what comes next?  Team Up will be posting the President's position on our blog in the coming days and for those who are interested in joining our team we will be asking for nominations.  In the meantime I hope you'll all support our Gigs4Good benefit on April 12th at the Hard Rock Cafe Seattle benefitting our friends at Seattle Works.  Tickets are selling fast and given our last event sold out I'd recommend grabbing your tickets now by clicking here so that you don't miss out.
I'd like to thank everyone who has volunteered in some capacity through my tenure as President, I'm proud of what we have done together and can't wait to be a part of Team Up's continued growth as Founder. . .
Lastly, to my wonderful wife, thank you for your patience, love and support… I love you!
Some of the 2012 Team Up Board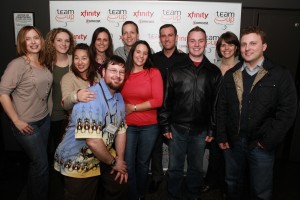 Some of the 2011 Team Up Board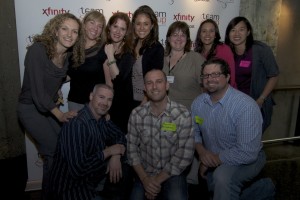 Some of the 2010 Team Up Board