London Is Calling And So Did Virgin Atlantic!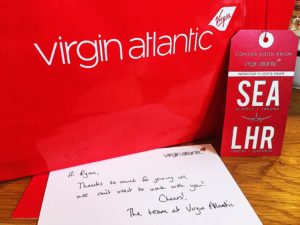 I'm very excited to be headed to London in two weeks to experience Virgin Atlantic's inaugural flight from London to Seattle! I am also stoked to be able to enjoy London for a few days before the flight. It's been cough, um, cough, 21 years since I was in London last so I'm guessing a few things have changed.  That's where you guys come in, I'd love to know what you recommend I do and see during my free time.  Please comment on my two social posts with your suggestions, choose Facebook or Twitter.
As someone who has traveled the world I'm pretty excited to experience Virgin Atlantic's Upper Class on one of their Dreamliners.  As you can see in the video below the experience from your door to when you land is simply incredible.  It's pretty safe to say that I've never traveled this way before so it's an experience I can't wait to have.  Additionally, Virgin is renowned for doing something special on their inaugural flights so I'm pumped to see what they do this time.
Of course I'm not going alone.  I will be sharing the entire trip with fellow Reinmakers, Joanna Hawley, Cassandra LaValle, Carolyn Yuen Marino, Charles Koh and Rebecca (BloggerNotBillionaire), all pictured with me below at the kick-off event in January.  Remember, please share your London tips with me on Facebook and Twitter and Seattleites book your trip to London now!
*Virgin Atlantic will provide travel and accommodations for my trip to London. All opinions and thoughts are my own.