Andrea Gibson – pure inspiration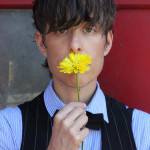 Someone very special is performing in Seattle this week, some of you may have heard of her, many probably have not.  The fact that most of you haven't heard of the name Andrea Gibson is a sign to me that our society shies away from truths that hurt or realities we're not proud of.  In my mind Gibson is an unsung hero, a leader who has the ability to greatly impact her audiences by the sheer clarity of her words.  She is most known as a spoken word poet.  Her words cut through the air and deliver a punch that no modern warfare could match.  Gibson should be the poster child for people who say we should use words instead of weapons.  Her words are weapons!
For those who haven't seen her perform via YouTube or live at her events, Gibson was the first winner of the Women's World Poetry Slam, has performed across the country and been featured on countless TV shows.  She tackles the big subjects head-on without flinching.  War, class, gender, bullying, white privilege, sexuality, love, and spirituality are all covered.
Gibson is by definition an award-winning poet and activist.  In reality she has become a voice for non-heterosexual people and for many who have become disillusioned with modern day politics.  For me I'm inspired by her conviction.  It is tangible!  She truly lives her beliefs in a way very few do.   One of her poems that has most affected me dealt with two women loving each other without being 'allowed' to get married.  There are many challenges facing people these days, not being able to marry the person you love has got to be one of the most unnecessary ones.  It is truly heartbreaking to me and it doesn't affect me directly at all.  I can't imagine how it feels.
Perhaps Gibson will give us some insight when she performs at the Fremont Abbey this Friday night as part of a benefit for Bent (a great organization).  Tickets are only $12 or $10 for students if you get in early and purchase your tickets here or they are $15 at the door.   Don't miss an opportunity to see one of the great American poets!
"Andrea Gibson's work is at once deeply haunting and profoundly inspiring. Her words cut so sharply and completely they cannot be shaken. To call her one of the best poets is a gross understatement. She is a rare artist who forever changes those who experience her poems." — Carlos Andrés Gómez, author/actor