Band of the Week: Noah Gundersen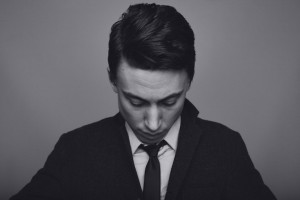 I've been looking forward to bringing back my Band of the Week column because I've been looking forward to sharing with you the music of Noah Gundersen.  In fact I'd say his EP titled Family, released in August 2011, has been my favorite album of the winter.
Noah and I have met and briefly chatted a couple of times but I'm yet to have the opportunity to really get a sense of what makes him tick.  But I am looking forward to that opportunity as it's evident that there is a lot to this quietly spoken and prodigiously talented musician.  Hailing from a musical family (his sister Abby Gundersen, plays violin and sings vocal harmonies on the EP) it seems music is in their blood.  On his website Noah says about his EP, "Family comes in many forms.  It lives with us, for better and for worse. It shapes us. Thats what this album is about."
I don't know about you but the theme of family and it's ensuing ups and downs is entirely relatable so I connect with this EP, it's a haunting reminder of what's real.  It succeeds by blending light with dark while delivering depth and gravity that keeps on drawing me back.
The folks at FX's hit series Sons of Anarchy agree, as they selected two songs off "Family", the title track and "David", to appear on Season 4 of the series.  With this exposure and some national tours with larger artists Noah is building a national following that seems to outweigh that of his hometown Seattle.  I think this should, and will change as Seattle realizes this talent amongst them.
I've posted a few of Noah's clips below as tasters.  Noah's EP, Family is available here and his tour dates are available here.  Enjoy!