The Symphony Guild – A man's passion to help children!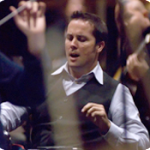 For the fourteenth year Grammy Award winning composer and Seattle native Mateo Messina has composed a world premiere symphony to benefit uncompensated care at Seattle Children's Hospital.  'The Last Wonder of the World" will feature John Ondrasik of Five For Fighting, South Africa's Civil Twilight and local gal Vicci Martinez who was a finalist on NBC's "The Voice".
You have to respect a man who has given up his time and talent for fourteen years to help children who's families don't have the money to afford the care they need.  Even more impressively, with this years proceeds, Mateo's Symphony Guild will have raised over $1 million for uncompensated care at Seattle Children's Hospital.  This man is someone we should truly get behind!  One little fact about Mateo that you might be interested in… Mateo scored the film Juno for Jason Reitman, an effort that earned him a Grammy.
As I'd love this event to be a sell out I have a pair of free tickets to give away to the person who helps me promote this event the most!  Simply promote this blog post in your tweet or Facebook post, then cc or tag me in your post… or write your own blog post about the event and let me know through Twitter and Facebook.
"The Last Wonder of the World" takes place this Friday, November 4th at Benaroya Hall.  The night starts at 6:30pm with cocktails, a silent auction and raffle ticket sales with the curtain rising at 8pm.  Tickets range from $40 to $60 and are available at the Guild's website www.thesymphonyguild.org or by phone at 206 215 4747.  Get a group of 15 or more together and you can grab a discount by calling Benaroya Hall ticket sales at 206 285 4818.