Huffington Post mention is recognition for everyone involved with Team Up!
Last Friday I was included in a blog post in the Huffington Post titled "39 Inspiring Men and Their Passion for Charity".  It was penned by three incredible people in Sean Gardner (2morrowknight), Amy Neumann and Yasamin Beitollahi and featured a list of men that have accomplished truly great things.  To say I was humbled and honored by this is an understatement.  It is, without a doubt the biggest acknowledgement of any work I have done in my life to date so of course I was thrilled.  But perhaps I wasn't thrilled for reasons beyond the obvious.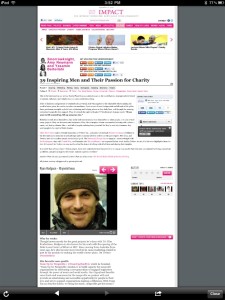 As the founder and president of Team Up for Nonprofits I have been a blessed man. Firstly that a group of wonderful people would embrace an idea I had and take it on as their own, give up their precious spare time, and take that idea and work together to make it a reality.  Then secondly, move it to a place where the organization has produced seven Gigs4Good benefits and in doing so not only has it gifted over $30,000, and raised the profile of those nonprofits we've partnered with, but also provided countless opportunities for young people in their 20's and 30's to contribute to their community and have fun at the same time.
So the real reason I am thrilled about this article is that it acknowledges the collective efforts of everyone who has been involved with Team Up from our first meeting in my living room to this very moment in time.  I am the spokesperson for the organization, and while assuming that position means that I get such focussed recognition such as this, it does not, and never will, mean that this nonprofit is mine and mine alone.  To me it is the opposite.  It belongs to everyone who has attended a Gigs4Good event, performed at, or worked back/front of house, anyone who has put up a poster, "liked" us on Facebook or re-tweeted us on Twitter, given us a discounted print ad, interviewed us on radio, given us a reduced venue rental, lent us gear, printed posters for us, written a check to us, or received a check from us.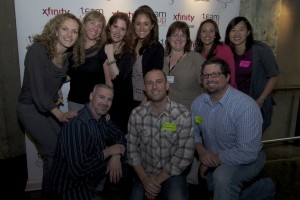 There is no doubt that the following people however are the people who really deserve their names in the Huffington Post.  They are the people who write the sponsorship applications, balance the books, do the data entry, post updates on social media, write the blog posts, take the photos, stream the shows, write the checks, coordinate the volunteers, manage the website, design the posters, choose the nonprofits, manage the events, take care of production, write the press releases and so on.  These wonderful people are the Team Up Board of Directors and Gigs4Good volunteers and what a lot of people don't realize is that Team Up has no paid employees and no office.  Up until this point we have been a totally grass roots organization, doing our best to function as professionally as possible as a 100% volunteer organization.   So that said, it is this group of wonderful people, perhaps 30 of them who have volunteered with Team Up over the past 2 years who I am thrilled for.  I'm thrilled because all their hard work added up to get recognition from a great, national publication for Team Up, which is not one person, but all of us.  Great job team!